U.S. Rep. Jim Clyburn writes in his upcoming memoir, "Blessed Experiences: Genuinely Southern, Proudly Black," that he was blessed out by former president Bill Clinton on South Carolina's 2008 presidential primary night.
"If you bastards want a fight, you damn well will get one," Clinton told the Columbia Democrat in a 2 a.m. phone call after his wife, Hillary, was trounced by Barack Obama in the early primary race by 29 points. The account came from a book excerpt reported by U.S. News & World Report.
Clyburn pledged neutrality in the primary but made a couple of comments that irked the former president, including one that questioned Hillary Clinton giving President Lyndon Johnson more credit in the passage of the Civil Rights Act than Dr. Martin Luther King.
The congressman felt Bill Clinton was blaming race instead of giving Obama credit for running a good campaign in South Carolina, according to the book excerpt in the U.S. News report.
"Bill Clinton wasn't just defining his wife's loss in South Carolina as a 'black political event,' he was defining it as a 'Jim Clyburn black southern event,' " Clyburn writes. "So this is what he meant when he said he'd show us a fight."
Clyburn voted for Obama in the primary. Bill Clinton called to apologize before the Super Tuesday primaries in March, according to the memoir.
South Carolina's only Democrat in Congress has not backed a candidate in 2016. Hillary Clinton, considered the Democratic frontrunner has not announced her bid formally.
Sorry, the state is closed
State government offices are shut down in all but five coastal counties today with South Caralina's second winter storm in two weeks dumping snow, sleet, ice and misery (unless you're a kid -- hooray, no school).
Anyone with a badge is asking folks to stay off the roads.
Gov. Nikki Haley declared a state of emergency at noon Tuesday. The chambers in the General Assembly are empty. The House is on a planned furlough. The Senate called off the session.
The good news for students is that when the senators return they could consider a resolution forgiving missed school days from this storm and the one two weeks ago.
And who says kids don't care about what happens in the Legislature?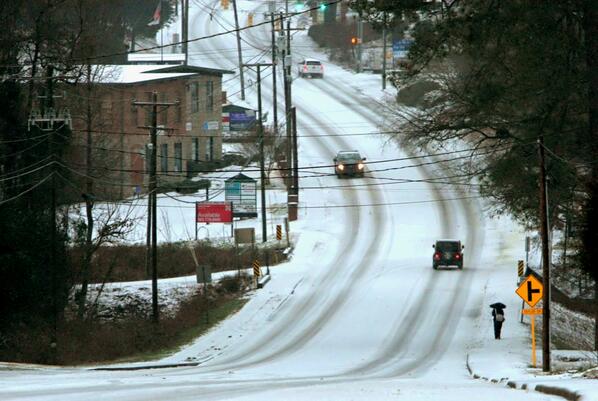 Ice and snow cover U.S. 1 near Lexington.
Top Clicks
Nikki (hearts) guns: S.C. Gov. Nikki Haley said Tuesday that she backs a proposal that would make it legal for most South Carolinians to carry guns – concealed or in the open – without a permit or the training that the state currently requires. Haley made her comments after she signed into law a bill that allows gun owners with licenses to carry concealed weapons into businesses that serve alcohol – restaurants and bars – as long as they do not drink alcohol and the businesses did not bar guns. Full story
Forcing college spending cuts: S.C. public colleges would have to make cost cuts recommended by a private consultant next year if lawmakers approve a budget amendment supported by a House panel Tuesday. House budget writers approved a number of budget amendments Tuesday, including forcing local governments to send the state its share of traffic ticket fines and requiring political candidates to pay their ethics fines. Full story
SC Dem boss leaving for Clyburn: Amanda Loveday, the executive director of the S.C. Democratic Party, is leaving to become U.S. Rep. Jim Clyburn's spokesman. Full story
Loveday
Gov. Nikki Haley's public schedule today
Haley canceled her address to the S.C. Governor's Conference on Tourism & Travel Industry Awards Luncheon in Hilton Head Island because of the weather.
SC tire exec invited to White House dinner
Pete Selleck, chairman and president of Greenville-based Michelin North America, and his wife, Nancy, were expected to attend the State Dinner honoring French President Francois Hollande at the White House on Tuesday night. Michelin is based in Clermont-Ferrand, France.
Selleck
SC Clicks
No case here: The State Ethics Commission has dismissed conflict-of-interest allegations against the chairman of the South Carolina agency that invests public workers' pension money. Full stor.
Selling abroad: More S.C. businesses benefited from exporting their goods last year for a 4 percent increase to $26.1 billion, up $1 billion in 2013 from the previous year. Full story
Corrections' mental-health lawsuit costing the state: A 2005 lawsuit suing the state for ill treatment of mentally-ill inmates has cost the state nearly $900,000 so far. Full story
Sign business picking up from guns and restaurants, bars bill: An S.C.-based sign company has been getting calls from businesses seeking no-concealable-weapons signs preparing for a new law allowing licensed concealed weapons in places that serve alcohol. Full story
Election Clicks
Straight to the core: Sheri Few, a candidate for state Superintendent of Education, is focusing her campaign on fighting Common Core education standards. Few is scheduled to discuss the standards with the Beaufort Tea Party on Saturday. Full story
Graham ads debut: U.S. Sen. Lindsey Graham's 2014 re-election campaign has released its first television and radio ads of the election season. Full story
Buzz Clicks
Down the barrel, what's for dinner: Foodies are turning to hunting to satisfy their taste buds. After declining for decades, hunting participation grew between 2006 and 2011. Full story
Cantore bugs out of SC: The Weather Channel's Jim Cantore was reporting from August Tuesday. "We're ice chasing right now, so we wanted to come where we felt the ice would be most severe," Cantore told the Augusta Chronicle. "That's why we chose Augusta." Full story
Catch The Buzz
Blog updated all day / Twitter feed / Facebook page
Get our newsletter
Sign up to get the Morning Buzz sent to your inbox
Got a tip?